Unheralded, historic, unprecedented. These are astonishing adjectives appropriately used to describe the current novel coronavirus pandemic. As a result, shelter in place orders as well as state, city and municipality lockdowns threaten the fabric of society. During this time uncharted challenges of particular concern is the nation's food supply chain.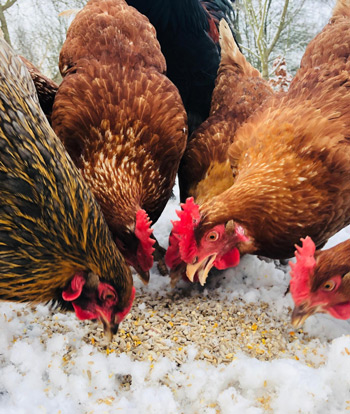 U.S. Secretary of Agriculture Sonny Perdue recently discussed the USDA's steps to address COVID-19's impact on the agriculture industry and ensured that steps to support this critical industry would be included in the Department of Homeland Security's Guidance to state and local authorities. The Department of Homeland Security's Cybersecurity and Infrastructure Security Agency (CISA) Guidance deemed pet and animal feed processing facilities as well as firms that support food, feed and beverage distribution as essential critical sectors of the Infrastructure Workforce.
Time sensitive, safe storage and efficient shipping of your freight!

Animal feeds are special foods for domesticated animals that keeps their body healthy and improves the quality of their products. Each type of animal has their own category of animal feed which contain all the essential nutrients required for their well-being.

Just like humans, animals have special dietary needs to keep their bodies functioning well. Maintaining good animal health is of major importance to livestock breeders. This is important for products derived from animals that are consumed by humans such as eggs, milk and meat. These products take on even greater importance as preserving health is of utmost importance in the nation's collective efforts to combat the COVID-19 pandemic.

Unilogic has as a client a company that is a leader in providing innovative, sustainable and result driven solutions to Indian agriculture and agribusiness. Distilled Fatty Acid is a key additive in their animal feed products imported to the U.S. market. Time efficient streamlining of the import process and maximizing payload capacity of the shipments are two primary concerns and challenges.
Unilogic's team of experts tailored an import solution that maximizes overweight dray capacities to increase the 40' ocean container payloads to 55,000 lbs. Unilogic seamlessly provides dray, devanning, storage and fulfills and processes outbound orders so that this essential commodity is delivered timely to buyers in neighboring states.
This is one of the reasons Unilogic is considered essential during these challenging times.
1 Minute to Submit Your Quote Request
Woodridge – HQ
2240 75th St. Woodridge, IL 60517
Franklin Park
10601 Franklin Ave, Franklin Park, IL 60131
Franklin Park II
9100 W Belmont Av. Franklin Park, IL 60131
Bedford Park
7373 S Lockwood Ave, Bedford Park, IL 60638
Midway (Chicago)
5230 S. Cicero Avenue, Chicago, Illinois, 60638